Amigos Make a Splash!
07 MAR 2013: It was a busy Transworld for Team EFX, and a lot of excitement was generated around the new "amigo" boards: the RC-2, the SSR-2, the HC-2, and the TD-1. These plug-and-play boards make prop and display building even easier than ever before!
---
EZ-3micro Firmware Update
01 OCT 2012: When you ask we do our best to deliver. The low-end range for the run time output has been reduced from 10-30 seconds down to 0.5 to 10 seconds. For those that have been looking for variablity with shorter run time, now you have it!.
---
AP-16+ Shipping!
21 NOV 2010: Nothing makes us happier than to annouce that the production units have arrived and are shipping! This was a very long development process and we're thrilled that it's done. The response to the AP-16+ has spectacular; this is particularly gratifying with the work that we put into design it.
---
DC-16 Gets New Features
07 NOV 2008: Today we released firmware version 1.5 for the DC-16. New features include "blip" (timed control of one output), "zip" (to quickly run through all outputs, forward or reverse), "randomize" and "toggle." Most of these updates were suggested by EFX-TEK customers to minimze serial traffic, especially when using the Prop-1.

You don't have to buy a new DC-16 to get the new features; you can send your DC-16 to us and for a $10 fee (per board, includes return shipping) we will update and retest your DC-16.
---
Run the Prop-SX with VSA
For those who have asked, the answer has come: Yes!, you can run an EFX-TEK prop controller (Prop-SX) from VSA. For details jump over to our tech support forums.
---
Canadian Distributor
We are tremendously excited to have HVW Technologies as our exclusive distributor for the country of Canada. While our Canadian friends may still order from us, you'll save money in shipping and customs fees if you order from HVW-Tech
---
Price Adjustments on March 1, 2008
We will be announcing new prices on March 1, 2008. Any orders placed on or before the 29th of February will be at the current price point.
---
Switch On Your Valentine
We've managed to get a great deal on some Crydom relays and are going to pass that deal on to you. Watch for a special in February where we'll bundle our popular RC-4 and four relays, at a price you'll really not want to miss. Watch the Specials page -- it's coming soon.
---
Light Up Your Holidays
We've bundled our new FC-4 Fader Control Board into a couple of very cool specials -- just in time for you to light up your holidays! ( Sale expired )
---
The FC-4 is Coming!
You asked for a multi-channel fader so we created one: the FC-4. The production version will make its public debut at the Midwest Haunters Convention in Columbus, Ohio. Stop by and check it out!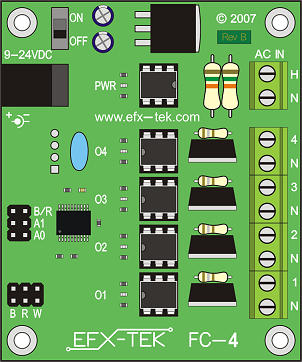 The FC-4 is the same size as the RC-4 but provides four channels of dimming, including three built-in cross-fade commands.
---
GUI Prop-1/Prop-2 Programming with Vixen
Still a little skittish about learning PBASIC -- but need a prop program in a hurry? Well, you can get started by using Vixen as a programming GUI for your Prop-1 or Prop-2.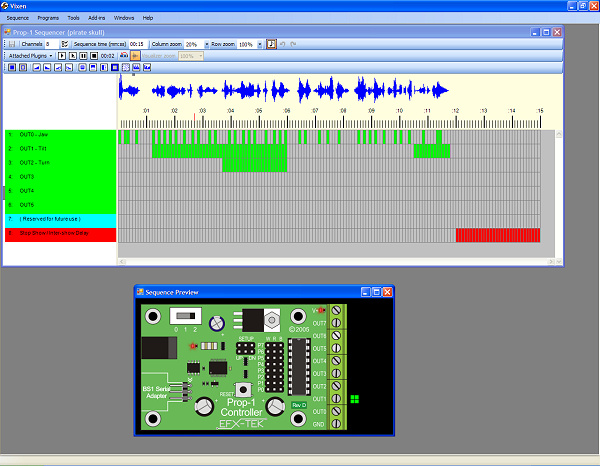 Details can be found in our support forums at this link:
-- http://www.efx-tek.com/php/smf/index.php?topic=140.0
---
Must-Have Halloween DVD
Our good friend, Chuck Williams is producing a great new Halloween DVD and you'd be foolish not to get your order in while the gettin' is good!
---
As you can imagine, we're thrilled to have this go from the drawing board to our benches! For our customers that have BS2 experience, the Prop-2 is an automatic. For those of you that are new -- no worries -- this baby is very easy to program and has even more cool features that are great for props.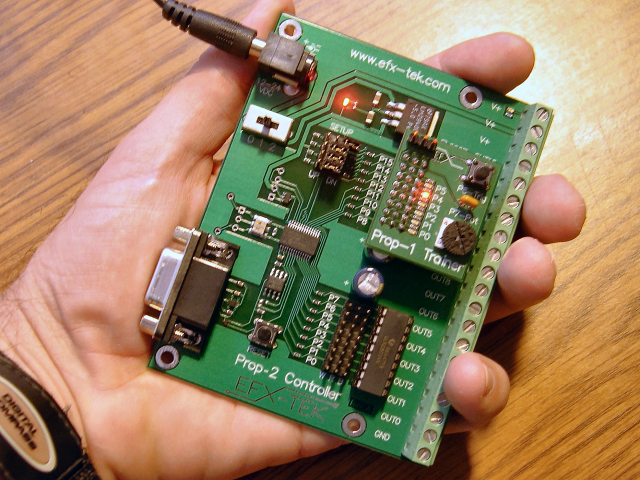 Be sure to visit us at Haunt X (www.hauntx.com) and sit in on or Prop-2 programming seminars (Saturday and Sunday).
Yes, that's a Prop-1 Trainer plugged into the Prop-2. By enabling the P15 pull-down (P15 SETUP = DN) the Prop-1 circuit is made Prop-2 compatible.
---
Prop-1 Controllers at Universal Studios, Orlando
Check out GregO's post at the end of this thread:
http://www.efx-tek.com/php/smf/index.php?topic=37.msg637
---
Show 'Em Your Power
Some of our friends have requested the image from our "Powered by EFX-TEK" sticker, so here it is: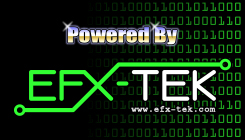 You're welcome to put this graphic on your web site -- in fact, we would be thrilled if you did.
---
For our friends in Europe
Save time and money (duties, etc.) by ordering EFX-TEK products directly from Antratek Electronics. Antratek provides exceptionally high quality support and serivce for all of the product lines they carry, and we're thrilled that they are the exclusive European distirbutor of EFX-TEK products.
Antratek Electronics
Apolloweg 206
8239 DB Lelystad
The Netherlands

www.antratek.com

Tel: +31 320 258 334
Fax: +31 320 258 019
---
Got USB?
If you've been looking for a cost-effective solution to USB, we've got it. We now carry the Parallax USB-to-Serial adapter, which was actually designed by John Barrowman when we worked at Parallax! Parallax has done a great job bringing this device to production at an astonishingly low price.
Here's what the adapter looks like when connected to the BS1 Serial Adapter and the Prop-1 controller: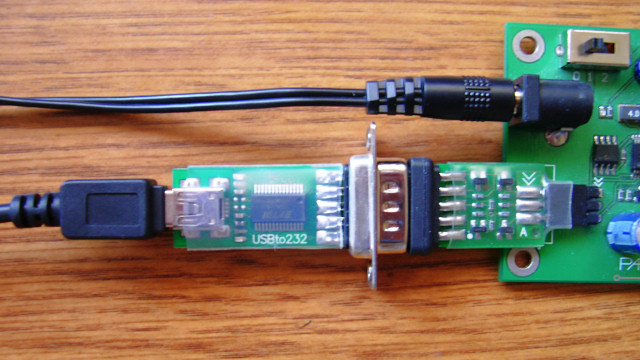 ---
Team EFX at the Midwest Haunters Convention
If you didn't have a chance to come to the Midwest Haunters Convention you missed a really great show -- and a blast of a party. It was great to see old friends and we enjoyed meeting new ones. You'll see us again next year!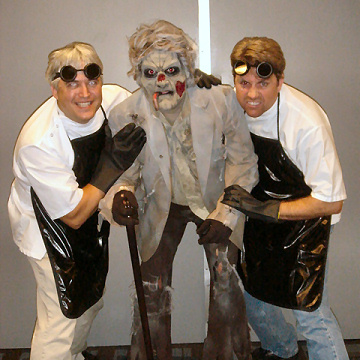 John Barrowman (EFX-TEK), Mark DiCarlo, and Jon Williams (EFX-TEK) ready for the MHC costume party.
(photo by Karen Murphy)
---
Team EFX on MySpace
Join us and our prop-building friends on MySpace -- we have our on portal there at www.myspace.com/teamefx.
---
New EFX-TEK Takes Over Parallax EFX Products
Rocklin, CA - June 1, 2006 - Long-time Parallax employees John Barrowman and Jon Williams have been offered and have accepted the opportunity to take the Parallax EFX product line and create a new company called EFX-TEK.
John and Jon will continue to develop and support the current product line (Prop-1 Controller, RC-4 relay board, AP-8 audio player, DC-16 expansion board, etc.) as well as develop exciting new products for prop and display controls industries.
"The products are the same, they'll just get a new name and be handled by a new company," said John Barrowman, EFX-TEK partner, "even though the principal players are still Jon and me. The guys you called for EFX product questions last week are the same guys you'll call this week. And yes, we will use Parallax micros in our new designs. Why wouldn't we? - they're the best in our book."
"We're excited and appreciate this incredible opportunity," said Jon Williams. "John and I have worked very hard to build this line, and relationships in the industries that use these kinds of products. It's going to be fun to take EFX to the next level."